Skip to Main Content
It looks like you're using Internet Explorer 11 or older. This website works best with modern browsers such as the latest versions of Chrome, Firefox, Safari, and Edge. If you continue with this browser, you may see unexpected results.
The Robert H. Goddard Digital Collection
The Robert H. Goddard Digital Collection is found here and contains digital versions of our large holdings of Goddard's papers and memorabilia. The collection includes:
Notebooks, 1903-1939, with digital transcriptions. Notes and recordings of his research.
Diaries,1898-1945, with digital transcriptions. Goddard kept a diary nearly every day of his life, besides during his honeymoon.
Newsclippings, 1904-1948. About Goddard and his work, including info about grants and projects
Papers, 3 volumes. Compiled and bound by Esther Goddard.
Highlights
---
Goddard's added diary entry from March 17, 1926, after the first successful launch of the liquid-fueled rocket in Auburn, MA.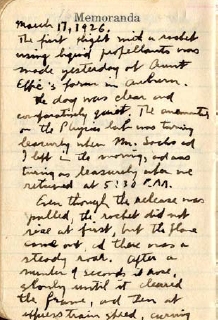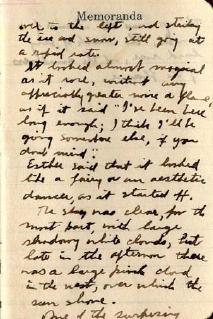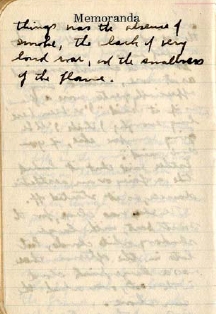 The Pasticcio
Copies of the Pasticcio are found here, with editions from 1925-current. You may access some earlier editions in person too, but these are too fragile to be digitized at this time.
The first Clark yearbook was published in 1905, called The Pioneer. Later, the June edition of The Clark Monthly replaced the annual yearbook. It was eventually named The Pasticcio and was published annually in May or June.
Highlights
---
Pasticcios contain a wealth of information, including clubs, graduating students, and class histories.
Finding Aids
The Finding Aid collection provides guides to our various special collections materials. Browse these finding aids while preparing your research plan and then visit us to access the material!
Finding Aids