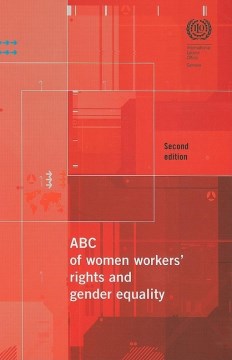 Summary

: "Arranged alphabetically by topic, it focuses primarily on States' and employers' obligations and workers' rights as regards equality between men and women, enshrined in the ILO's body of international labour standards (Conventions and recommendations). It also refers to other relevant developments and trends in international law (for example, United Nations instruments), supranational law (for instance, European Community directives), and national legislation and practice"--Page 1.
PS3551.L845 I5 1995
Summary: Set during the waning days of the Trujillo dictatorship in the Dominican Republic in 1960, this extraordinary novel tells the story of the Mirabal sisters, three young wives and mothers who are assassinated after visiting their jailed husbands. On a deserted mountain road in the Dominican Republic in 1960, three young women from a pious Catholic family were assassinated after visiting their husbands who had been jailed as suspected rebel leaders. The Mirabal sisters, thus martyred, became mythical figures in their country, where they are known as Las Mariposas (the butterflies). Three decades later, Julia Alvarez, daughter of the Dominican Republic and author of the acclaimed How the Garcia Girls Lost Their Accents, brings the Mirabal sisters back to life in this extraordinary novel. Each of the sisters speaks in her own voice; beginning as young girls in the 1940s, their stories vary from hair ribbons to gun-running to prison torture. Their story is framed by their surviving sister who tells her own tale of suffering and dedication to the memory of Las Mariposas.
---
Women's movements in Asia: Feminisms and Transnational Activism
Summary: "Women's movement in Asia is a comprehensive study of women's activism across Asia. With chapters written by leading international experts, it provides a full overview of the history of feminism, as well as the current context of the women's movement in 12 countries: the Philippines, China, Indonesia, Japan, Burma, Singapore, Vietnam, Malaysia, Thailand, Cambodia, Hong Kong, Korea, India and Pakistan.
---
HQ 1460.5.M64 2003
Review: "The gendered analysis of political power, and of the women's movement that have contested it, has long concentrated on the Western developed world, In this wide-ranging re-evaluation, pertinent equally to development studies and to political sociology, Maxine Molyneux set out to redress this balance in the light of an analysis of Latin American women's movement and of their engagement with a range of states, liberal, authoritarian and revolutionary. In a set of analyses that includes studies of Argentina, Nicaragua and Cube, together with comparative discussions of state socialism, women's movements and citizenship, she examines the complex, and persistent, interaction of states and women's movements and the diversity of responses which this has yielded. Molyneux argues that no study of gender relations in the contemporary world, nor policy prescriptions for addressing gender inequality, can avoid an international, and comparative, perspective. the conclusion emerging from these cases, as relevant to the history of feminism as to its future, is a vindication of a radical, democratic perspective, one which seeks to transform social relations as it engages and contests political power."--Jacket.